Doe mee met de Footsteps To Inspire Run in Nederland, de Beach run op 18 maart. Dit is een wereldwijde beweging die mensen bewust maakt van seksueel geweld en slachtoffers helpt.
Gestart door mij (Claire McFarlane), een overlevende van verkrachting uit Zuid-Afrika, ren ik 16 km langs het strand in elk land van de wereld, deel ik mijn verhaal en voer ik vreedzaam campagne om een einde te maken aan seksueel geweld. Nederland is land nr 59.
Datum: zaterdag 18 maart 2023
Plaats: Strand Scheveningen – Bijeenkomst bij het Infopunt Scheveningen
Tijd: 7.00 uur (voor 16 km) / 8.30 uur (voor laatste 5 km)
Afstand: Ren of loop 5 km of 16 km
Aanmelden: https://forms.gle/Lks9xaWYnpntyQr87
Kosten: Gratis, maar donaties worden zeer op prijs gesteld. U kunt hier doneren: https://www.footstepstoinspire.org/donate
Iedereen is welkom bij de Footsteps To Inspire Run
Ren of loop de afstand die voor u comfortabel is. Laten we allemaal samen stappen zetten en onze steun betuigen aan overlevenden in Nederland. Dit is een zeer informele run. Wat betekent informeel? Het is geen wedstrijd of officieel hardloopevenement. Het gaat om solidariteit en het tonen van onze steun aan overlevenden van seksueel geweld. Het enige wat we vragen is dat je je aanmeldt, zodat we weten hoeveel mensen we die dag kunnen verwachten. Dank je!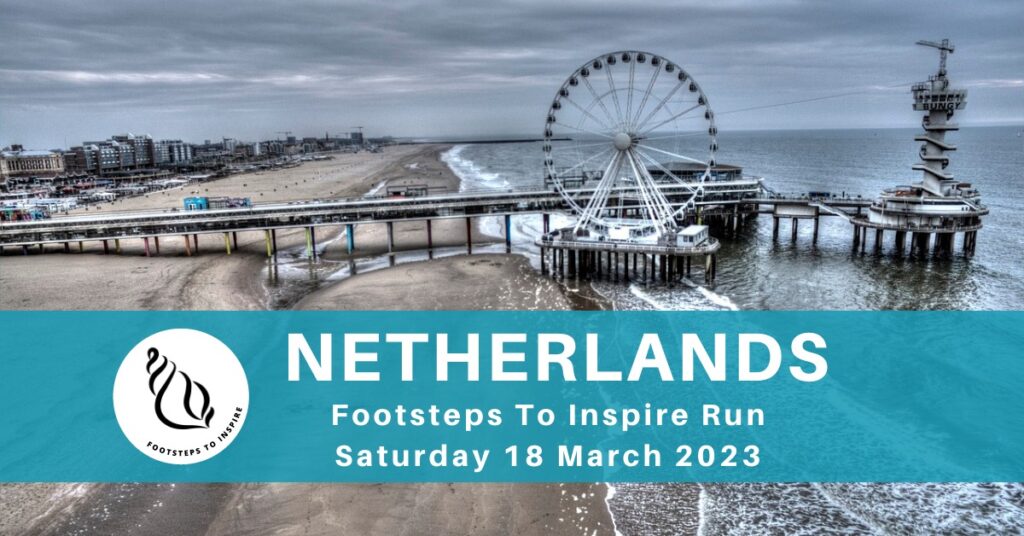 Bekijk deze video: https://youtu.be/hqlDaz-hqt0
Facebook event: https://www.facebook.com/events/6036342903053577
Link: https://trailrunnersconnection.com/adventures/footsteps-to-inspire-run-the-netherlands-claire-mcfarlane/